by Carl Kruse, Ivy Circle Berlin

We are excited to invite the Ivy Circle to the Stanford University summer garden event on Sunday, July 10, 2022 from 4 pm at the beautiful Q Beach, which just recently reopened in the Halensee/Grunewald neighborhood. Q Beach is on Koenigsalle 5B, 14193 Berlin. There will be a BBQ, wine, beer and soft drinks.
We have the honor of welcoming Stanford Prof. Jenny Suckale as a special guest. Prof. Suckale is part of the founding team at the new Stanford Doerr School of Sustainability, a massive investment into making this world a better place, and Stanford's first new school in more than 70 years. The new school, opening in September, has the mandate to drive scholarship and high-impact solutions for climate and sustainability challenges around the world, with an endowment of $1.69B to launch. We are honored to get this first hand exclusive preview even before its opening.
For a discussion with all participants we'll have two outstanding personalities join Prof. Suckale:
Albrecht Graf Matuschka, the iconic pioneer of Corporate Venture Capital in Germany in the 1980's and expert in sustainable finance. He has been involved in the establishment of the German private business school system. He travels to Berlin from Frankfurt.
Juan Carlos Alonso, Stanford Graduate School of Business graduate, executive board member of the Belgian corporation Bekaert, a $5 billion revenue world market leader in steel fiber products. Juan Carlos is responsible for strategy and corporate development of a company which is prototypical for sustainable transformation. He travels for the event from Belgium.
Please bring your friends and families for what will be a great event. The gorgeous venue is by a lake and the BBQ will be hosted by our own Chef Susanne, who has a culinary degree.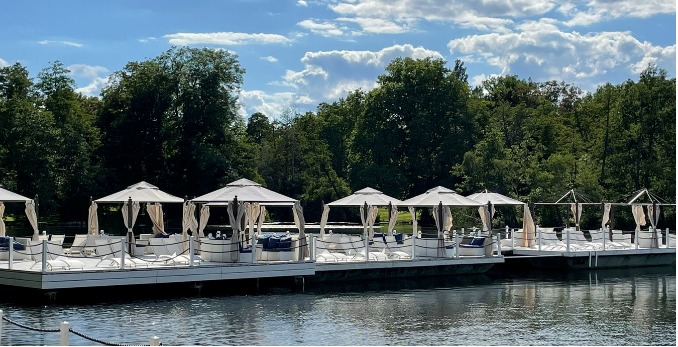 Q Beach in Berlin



Admission:
· 75 € for adults. A discount for young alumni is available for those who graduated within the last 5 years- please reach out to Jon ([email protected]) about it before booking.
· 35 € for young adults under 18 years and current Stanford students
· Free for children under 10 years
Please Register via this Google Form as soon as possible.
Payment is via Bank transfer.
Bank transfer to: German Stanford Association e.V.
IBAN: DE85 1001 0010 0915 9481 00
BIC: PBNKDEFF
In the reference, please add your name "+ Summer 22"
What awaits:
One of the best communities you can imagine and an exclusive preview into one of the world's largest efforts in sustainable technology and a delicious BBQ of burgers, meats, cheeses, a full buffet (with plenty of vegetarian options).
Catered wine, beer, coffee, and a variety of soft drinks are included (Open bar from 16-21h).
The beach is also accessible for an additional €6.50, so bring your swimsuits!
Carl Kruse, Ivy Circle Berlin
Contact: carl AT alumni DOT princeton DOT edu
Our last event was the Ivy Circle Happy Hour at the Fox Bar.