by Carl Kruse

Join us for an evening of Berlin history as the Ivy Circle teams up with Wharton School Alumni of Berlin and with the Carl Kruse Arts Blog for a private tour of the former Tempelhof Airport on Friday, 24 February 2023 starting at 6:30pm.

Tempelhof Airport is one of the largest architectural monuments in Europe, and one of only three main buildings in Berlin built by the Nazis that have survived (the other two being the Olympic Stadium and the former Luftwaffe headquarters, currently home to the Finanzamt).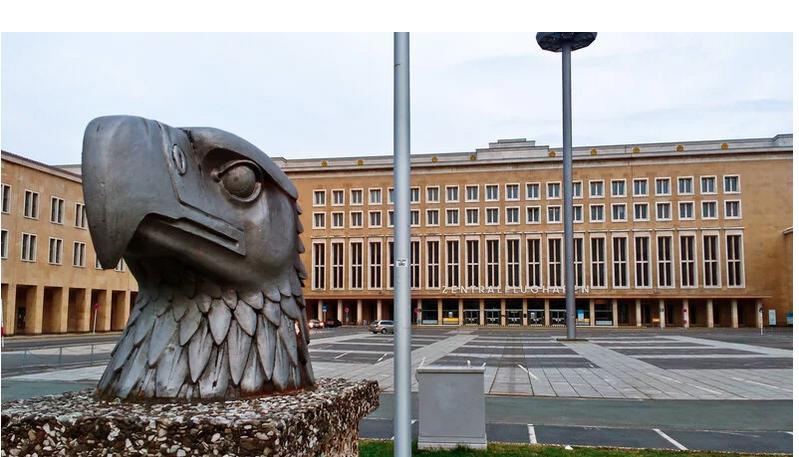 Built between 1936 and 1941, the building stands for the self-staging of the National Socialists. In 1948/49, however, the airport also became a symbol of freedom through the Berlin Airlift.

Let's learn more about the ideological-political background of the airport and explore some of its most interesting spaces.

Guided Private Tour: 2 hours, 18:30 – 20:30h.

After the tour we will head to Orville's, the former US Air Force Officer's Lounge off the main hall for drinks and chat. At 9:00 p.m., their house jazz band with a guest vocalist will celebrate a tribute to Frank Sinatra and Dean Martin.

The program fee includes starter wines, waters and nibbles.

RSVP kindly asap to Georgette via [email protected]

Program fee for the evening is 30 € payable in advance.

Bank details will be provided upon registration.

First come, first served. Maximum 30 guests!

Important notes:
Due to the structural conditions, the tours are unfortunately not barrier-free. A good basic physical condition is required due to longer distances and various stairs. Sturdy, closed shoes are required.
Animals, baby carriages, walkers and wheelchairs are not allowed.
Photography is allowed only for private use.
In case of late arrival at the starting point, participation in the guided tour cannot be guaranteed.
Please meet at 18:15h at the CHECK-IN Visitor Center on Platz der Luftbrücke, right next to the main central entrance to the airport building.