by Carl Kruse, Ivy Circle Berlin

The Ivy Circle-Berlin invites you to a wine and tapas evening at the Sana Berlin Hotel on Wednesday, 7th September 2022 from 7pm to 9pm.

Join us as we team up with Club Vivanova at the beautiful open terrace area of the hotel to taste premium Argentinean, Australian, Chilean and Spanish wines paired with Portuguese tapas.

Our guide for the evening is Bradley Mitton, a wine expert from the United Kingdom, currently based in Monaco, where he has gained renown for his events in the French Riviera, including at the Nobu Monte Carlo, Fairmont Monte Carlo, the Monaco Grand Prix, and various super yachts.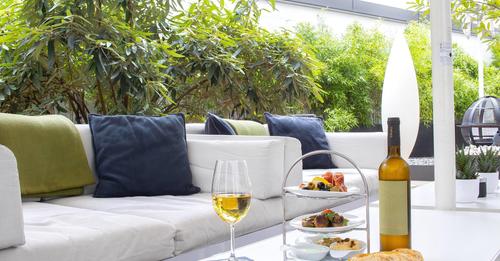 The last event we did with Bradley received tremendous accolades and we look forward to another beautiful evening of meeting new friends and old.
The Sana Berlin Hotel is about 600 meters from KaDeWe at Nürnberger Str. 33-34 in Berlin. The stylish hotel offers a spacious outdoor area with comfy sofas for our event.

The cost is 30€ and includes everything – free flowing wine, great tapas and of course the gathering of our Ivy Circle combined with Bradley's Club Vivanova group. We should be about 50-70 people.

It will be good!

Tickets are available online at
https://www.clubvivanova.com/tickets/07sep2022

Carl Kruse
Ivy Circle Berlin

Our last event was the garden party in conjunction with Stanford University at QBeach in Berlin in July.